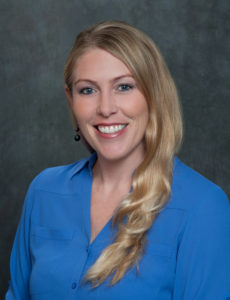 Elizabeth Brackin is an executive coach and management consultant who has worked with a variety of industries primarily consisting of healthcare, media, manufacturing, defense contracting, retail, and financial. Her work portfolio includes working with clients on strategic talent alignment initiatives, facilitating action learning sets/group coaching, providing individual leadership coaching, and delivering customized training and development solutions. Over the last fifteen years, Dr. Brackin has worked in a variety of settings with the majority of her career spent in healthcare. She has assumed roles both internally and externally as a Management and Organization Development Consultant.
Elizabeth offers business acumen through her experience in creating strategic marketing programs with executive level leaders. At Cox Media, she successfully partnered with leading businesses and Fortune 500 companies to launch on-air advertising campaigns. Through detailed appraisals and rapport-building, Elizabeth customized programs to meet critical enterprise needs.
Elizabeth has had the opportunity to partner with several consulting firms, including her work at the Center for Creative Leadership (CCL). Additionally, she currently works full time for one of the largest healthcare systems in San Diego as an Employee Assistance Program (EAP) Psychologist. In her role, she fulfills a variety of functions, including but not limited to, leadership and executive coaching, individual counseling, and department-level team building and interventions.
Elizabeth views coaching as a joint partnership, whereby clients are encouraged to openly share their goals and concerns. Elizabeth uses a direct, respectful style to help her clients grow and achieve success. She is practical and results-oriented. In collaboration with the client, a solid action plan is developed and implemented.
Elizabeth is a board-certified coach (BCC) through the Center for Credentialing and Education. She is certified in multiple psychometric assessment instruments and custom 360 degree feedback. She is also a Certified Employee Assistance Professional. Elizabeth holds a Bachelor of Arts in Social Sciences from UC Irvine, a Master of Arts in Counseling Psychology from Alliant International University, and a doctoral degree in Clinical Psychology with an emphasis in Industrial Organizational Psychology from the California School of Professional Psychology (CSPP) at Alliant International University.
Professional affiliations have included: Organizational Development Network, Society for Industrial Organizational Psychology, and American Psychological Association.
Click here for printable PDF Elizabeth Brackin BIO